We are pleased to introduce our board of Non Executive Directors who act as advisers and provide guidance to the Trust.
My name is Anna Corrigan and I reside in the West of Ireland. Ever since I was a small child I had an interest in mission. I had an innate curiosity about people living in different countries and cultures. This was only magnified by attending holiday bible clubs. As a result I got to listen about stories of missionaries and the places that they worked in.
Part of my childhood and early adolescents involved travelling to different countries and living abroad. This opportunity opened my eyes to the world and expanded my horizons.
Similarly as an adult I have travelled overseas on short term missions including Liberia. Where the kindness, warmth and love, that was shown to me despite the poverty and lack of resources deeply touched me. Furthermore the Liberian people showed me such kind generosity.
I graduated from Sligo Institute of Technology with a BSc (hons) in Social Care. Qualified as a Social Care Practitioner I have been working in the Social Care Sector for 9 years. I love people and always feel a sense of purpose and fulfillment in doing something that is helpful and useful and as a result will ultimately enhance the quality of life for others. Currently I am studying a Master's in Counselling and Pastoral Care. I hope that these skills will also contribute to the work in Liberia.  Finally serving as a Board Member on The Koinonia Trust gives me great delight.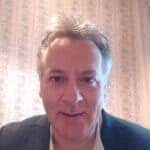 Working in and around peace and conflict-related issues in various contexts for over 20 years. Seán's professional journey started out as a High School Teacher and Youth Worker in Northern Ireland in the 1990's. This evolved, within the framework of the Northern Ireland conflict, through the development of cross-community engagement and peace education programs across the island of Ireland and in Britain for young people and adults as part of the programme team in The Glencree Centre for Peace and Reconciliation, County Wicklow, Ireland.
His work has branched out to international contexts. To date he has facilitated initiatives dealing with the aftermath of violent conflict at grassroots, civil society, institutional and political/governmental levels in Afghanistan, Haiti, Liberia, Israel and Palestine, Sierra Leone and Sri Lanka. From 2011-2013 Seán worked as a Community Mediator in the Irish Midlands. Since 2013 he has worked as a Manager with the Red Cross in N.Ireland on the Principles in Action Program. The program seeks to position the Red Cross-Red Crescent Movement's Fundamental Humanitarian Principles at the core of all it does. Seán also is a Committee member of the Ballymena Inter-Church Members Forum, an inter-church and inter-faith dialogue network, in Northern Ireland since 2017."